EARRINGS NOT FOR THE FAINT OF HEART
Shop Cholla is big jewelry for fun people. Our designs are a triple threat - bright, big, and bold. We proudly create jewelry and apparel for every person.
We're a small woman-owned handmade jewelry business specializing in big, bold, and bright earrings through primarily acrylic, polymer clay, beaded and raw brass pieces, with a section of pre-loved vintage jewelry, and apparel.
Shop Cholla is based in Idyllwild, and named after the native Cholla cacti located around the Southwestern United States, and is pronounced "choy-ah".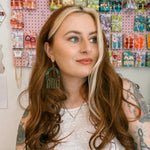 MEET THE WOMAN BEHIND SHOP CHOLLA
Her name is Hallie, but you can call her Hal. A self proclaimed jewelry hoarder and jumpsuit enthusiast, Hal has ample experience in dressing up dressed down outfits with earrings. Hal created Shop Cholla in 2019 as an ode to all of those people, like her, who wanted bright, lightweight, affordable earware. As Shop Cholla grows, you can expect Hal to be sitting at her jewelry bench, planning the next big thing.
TAKE THEIR WORD FOR IT
"Wearing your earrings makes me feel put together and confident. I finally feel like I can easily wear big statement pieces and get creative with my style now."

BELLA G.

I can't get over my Raining Hearts. Like, where have these been my entire life?

Kate P.

These are artsy, cute, and just so my vibe! I'm a big fan. As always, a big fan of Shop Cholla.

Crystal M.L.

I LOOOOOVE these earrings! I've gotten tons of compliments on them, and keep having to remind myself I should wear other earrings too.

Tania O.

Fourth pair of earrings from Shop Cholla, she is amazing and these earrings bring a bit of joy in my life during these hard times.

Monica W.

Absolutely gorgeous! The perfect combination of vintage glamour and bold modern statements, the pink is subtle and dreamy while the gold and Metallics are bright and beautifully eye catching! Can't wait to show these off everywhere I go!

Katey L.